Institut für Astronomie und Astrophysik

Abteilung Astronomie

Sand 1, D-72076 Tübingen, Germany

Hinweis: Einige Seiten auf astro.uni-tuebingen.de können veraltet sein und werden nicht mehr aktualisiert.
Note: Some webpages at astro.uni-tuebingen.de may be outdated and will no longer be updated.

---
The new Observatory
The location is:
009° 04' 12'' East (9.0700°), 48° 32' 03'' North (48.5342°), Altitude 400m
(click on images to get larger version)
The 40 cm Mirror
An old 40 cm mirror telescope is mounted in the observatory until a new telescope is available. It is equipped with a CCD camera and a spectrograph and is used for photometry as well as for spectroscopy.
This telescope was used in the 1960's for ESO site testing in South Africa. 1964/65 it was mounted on the Etna as part of the observatory of Catania and was used there for long term photometry of symbiotic stars. In the old observatory area it was mounted in a hut.
These images show the mounting of the 40 cm mirror telecope into the new dome on Feb. 12, 2002.
The new 80cm telescope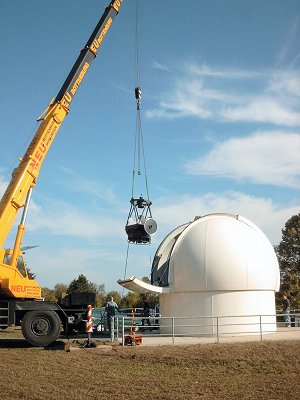 On September 30th, 2003 the new 80cm telescope was mounted. There is an image gallery of the installation of the telescope. Also there is a web page about the scientific utilization of the telescope.

---
[Home Page] [The 80cm Telescope] [Quick Reference] [Feedback]
---
Jürgen Barnstedt | Impressum
Last modified 20 Mar 2008